WHY ASUL?
We have the best Spanish program at the lowest price!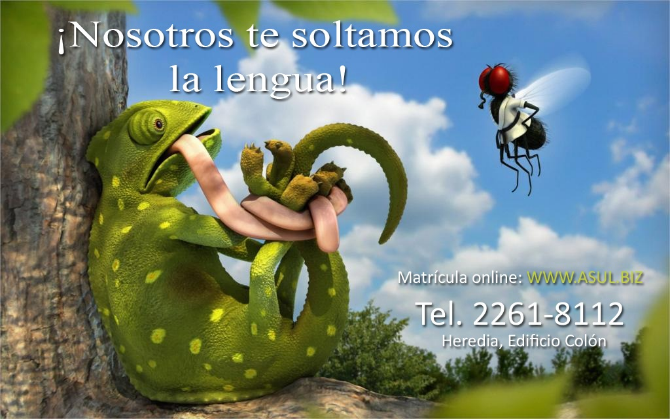 ASUL "untangles your tongue" with an effective and engaging learning methodology in our intensive Spanish program, comprised of 20 classroom hours per week. The academy offers schedule flexibility, catering the amount of classroom time to your needs- intensive and regular courses are available. The course is all-purpose; it is suitable for business (Spanish is quickly becoming an essential business language), specific professional or technical areas, or just the enjoyment of speaking a romance language. Students may also take advantage of our host family and tourist packages, which are reasonably-priced and fully recommended.

ASUL's teachers are characterized by their multicultural learning experience, friendly attitudes, leadership skills and an extensive knowledge of "Tico culture." They apply a flexible learning program adapted to the rhythm of student progress. Based on the Communicative Method, our course offers real-life encounters with everyday situations, where the students must navigate daily obstacles in Spanish, and apply their knowledge directly in an immersive setting.
Classes include 4 components: grammar, pronunciation, listening and writing, with a guided practice, programmed evaluations and real time encounters where students get out of the classroom and apply the topics reviewed in class.
Our teaching method develops competence in communication. This helps to create and sustain student motivation and interest, which leads to learning success. In other words, the more you learn with our program, the more you'll be motivated to continue learning!
ASUL's team will be delighted to welcome you and make your experience abroad effective and pleasurable. At the end you will agree: It worth it to select the best choice!
FASCINATING TOURS AND…

ASUL is the academy with the most tourist agency arrangements in the country. It offers a wide tour diversity, where you will gain unforgettable memories. We have carefully selected the most beautiful places in Costa Rica for our tours. The itinerary is a balance of adventure, discovery, and relaxation. "Our goal is that you'll get more than what you paid for".
WARM HOST FAMILIES
The host families are carefully selected based on experience with hosting international students. You will be charmed by homemade traditional food, the warmth of a family unit and the most intimate of Costa Rican culture, creating a perfect atmosphere to practice what you have learned in Spanish class. They will become a second family to you, and the bonds of friendship will last even after your departure.
Due to the great quantity of tourists from around the world that visit Costa Rica, the "Ticos" are accustomed to multiculturalism, so they will make you feel completely at home.
WHY COSTA RICA? Costa Rica is considered a miniature paradise in the heart of Central America, ornamented by the Caribbean and Pacific Ocean.
Read More