Route: Heredia, San Isidro, Parque Braulio Carrillo.
Distance from Heredia: 12 km
Departure: Saturday 10:00 am
Return: Saturday 03:00 pm
Recommendations: Light clothing, sweater for the cold and rain, tennis shoes, hat, sunscreen and a desire to taste chocolate.
Description: It includes ground transportation, entrance fees, tasting, 1 lunch, taxes and a guide.
We will leave Heredia at 9 am and arrive at the artisanal chocolate factory in just 30 minutes, entering into the world of chocolate located near the Braulio Carrillo National Park. Besides tasting chocolate, we will have lunch, made from natural products grown in the area.
Founded in December 2007, SIBÚ Chocolate became the first fine chocolate maker to use 100% organic Costa Rican cacao. During the visit, guests will savor SIBÚ's gourmet truffles, caramel and pure dark chocolate tasting squares (wine pairings available). Meanwhile kids will be invited to make their own chocolate treats, as well as learn about how cacao is grown and the indigenous cosmology surrounding it. SIBÚ chocolate comes from a small farm on Costa Rica's Caribbean slope, where beans are grown and fermented under consistent conditions to help achieve greater purity in flavor and better overall quality.
Owners and Master Chocolatiers, Julio Fernandez and George Soriano welcome their guests and show them how to taste the nuances in chocolate using all the senses. They will also share their experience in launching an artisan chocolate business in Costa Rica, building it "one spatula at a time". Environmentalists at heart, the two also discuss the social and environmental importance of the cacao crop to Costa Rica and the region.
Enjoy the chance to step off the traditional tourist route and glimpse a true cottage industry at SIBU Chocolate. Watch local artisans temper chocolate on a marble slab and decorate bonbons by hand at a small workshop and café set just outside the cloud forests of Braulio Carrillo National Park (20 minutes from downtown San José). Overlooking the mountains of Costa Rica's Central Valley, the workshop/café is a peaceful place in which all SIBU confections and bars are made with special care. Guests are treated like family and can walk freely through organic gardens of predominantly native plant species on the property.
At Café SIBÚ Chocolate, they believe that the best meals are prepared with fresh, seasonal ingredients that speak to the place where they are grown and enjoyed. The lunch menus are inspired by local cuisine with a twist that makes them a bit more interesting to the palate but true to their origin. They'll be happy to tailor menus for private groups.
PHOTO GALERY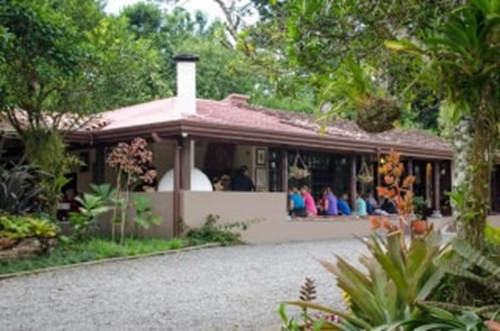 See the details about the program SPANISH 20 HOST & TOURS